Skin Pigmentation System
---
Sale price
$ 198.00
Regular price
$ 220.00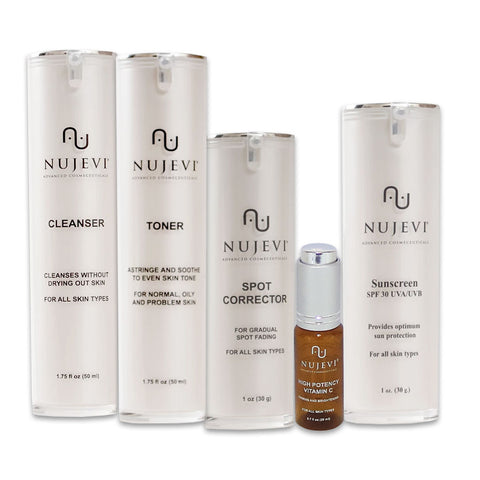 Our Anti-pigmentation refers to products and treatments specifically
designed to reduce or eliminate dark spots or patches on the skin. These
can be caused by various factors, including sun damage, hormones, aging,
acne scars, or other skin conditions.
Our skin lightening system is uniquely gentle, beginning with a mild cleanser that employs micro-emulsion technology and natural extracts rather than harsh detergents. Our Toner helps adjust the pH of the skin and enhance the absorption of our Spot Corrector, which is formulated for deep penetration. High Potency Vitamin C and natural skin lightening extract reduce discoloration without creating irritation or photosensitivity. Finally, the system employs Sunscreen and a collection of products that soothe the skin while protecting it from irritation or rebound hyperpigmentation. This holistic approach is designed to even skin tone without side effects.
Usage Direction:
Cleanser (0.5 oz.): everyday, PM.
Toner (0.5 oz.): every day after cleanser or without (if skin is dry, use two times a week)
Spot Corrector (1 oz.): everyday, AM and PM.
High Potency Vitamin C (0.7 fl oz.): everyday, AM and PM.
Sunscreen (1 oz.): everyday, AM only.
Regular price $220
Package Price $198
Save $22