Rejuvenation System 1
---
Sale price
$ 515.00
Regular price
$ 560.00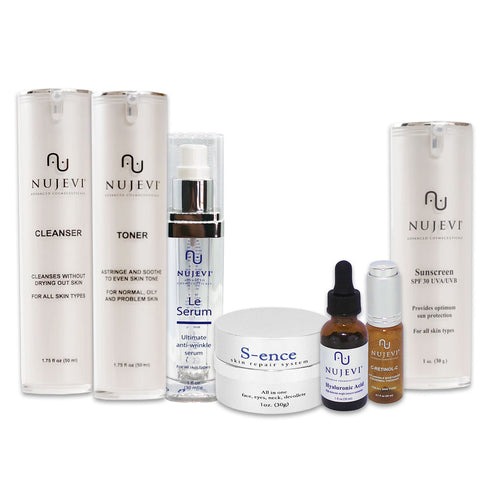 Our rejuvenating Anti-Aging system is designed as a gentle, non-invasive method to reduce wrinkles. The process begins with a mild cleanser that employs micro-emulsion technology and natural extracts rather than harsh detergents. From there, a suite of products is employed to retain moisture in the skin, relax muscle expression, and repair the skin. We have created a combination of extracts, acids, and peptides which not only hydrate the skin, but also aid in the production of collagen and the prevention of muscle contractions which create fine lines on the  skin.
Retinol is derived from vitamin A and is known for its ability to stimulate collagen production, improve fine lines and wrinkles, and even out skin tone. 
Antioxidant,  like Vitamin C, helps protect the skin from damage caused by free radicals. And can also brighten the skin, reduce inflammation, and fade hyperpigmentation.
Hyaluronic acid helps retain moisture in the skin, making it appear hydrated and plump. It can help improve the appearance of fine lines and wrinkles, as well as enhance
skin elasticity. 
 Finally, the system employs our Sunscreen to prevent damage and reduce irritation to the skin.
Usage Direction:
Cleanser (0.5 oz.): everyday, PM.
Toner (0.5 oz.): every day after cleanser or without (if skin is dry, use two times a week)
S-ence (1 oz.): everyday, AM and PM.
C-Retinol-C (0.7 fl oz.): everyday, PM.
Hyaluronic Acid (1fl  oz.): everyday, PM.
Le Serum (1 oz.): everyday, AM.
Sunscreen (1 oz.): everyday, AM only.
Regular price $520
Package Price $468
Save $52