Acne System
---
Sale price
$ 297.00
Regular price
$ 315.00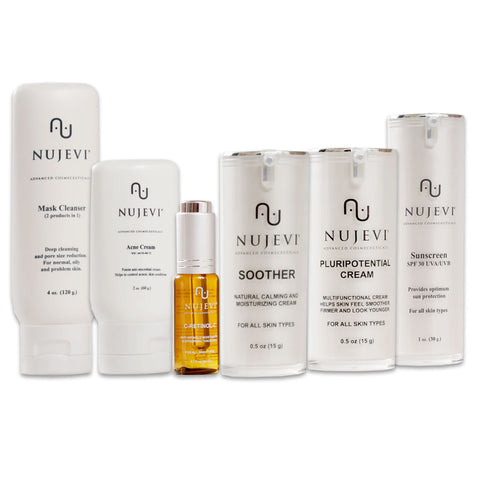 When it comes to treating acne, it's important to note
that everyone's skin is unique and may require different approaches.
However, there are some general tips and solutions that can be
beneficial for most skin types. 
 Cleanse your skin regularly: Use  non-comedogenic Mask Cleanser
to remove excess oil, dirt, and bacteria that can clog your pores. 

Our over-the-counter acne treatment containing benzoyl peroxide is  effective in controlling acne. This ingredient works by killing acne-causing bacteria and reducing
inflammation. Apply it directly to affected areas as directed on the product label.

 Moisturize appropriately: Even if you have oily skin, it's essential
to hydrate with a light, oil-free moisturizer. Skipping moisturizer can
actually lead to increased oil production and worsen acne. 

Spot treatment for individual pimples: For occasional breakouts you
can use a spot treatment with benzoyl peroxide and tea tree oil to help reduce the size and redness of individual blemishes. Retinol helps regulate the skin's cell turnover, reduces inflammation, and unclogs pores. Vitamin C plays a supportive role in managing and preventing acne breakouts.
Our approach begins with a mask cleanser for reducing pore size, followed by a suite of products with astringent, cleansing, and acne fighting properties using Benzoyl Peroxide, Vitamin C, and Retinol. Finally, our Sunscreen and Soother are employed to protect the skin, fight bacteria, and reduce irritation. This holistic approach to acne care will improve skin conditions while preventing further breakouts.
Usage Direction:
Mask Cleanser (4 oz.): 1 to 3 time a week depends on oiliness of the skin (if skin is dry, use regular cleanser)
Acne Cream (2 oz.): every other day only on the acne spots.
C-Retinol-C (0.7 fl oz.): every other day when not using acne cream.
Toner (0.5 oz.): every day after cleanser or without (if skin is dry, use two times a week)
Soother (0.5 oz.): everyday or as needed.
Pluripotential Cream (0.5 oz.): everyday, AM and PM.
Sunscreen (1 oz.): everyday, AM only.
Regular price $302
Package Price $270
Save $32
Related Products
---